Your username or email address

Log in
Enter the email address for your account and we'll send you a verification to reset your password.

David Dobrik Files For Divorce After Marrying His Best Friend's Mother Just A Month Ago

That was quick…

posted on 06/13/2019 13:25:56
That was really quick! Less than a one month after saying "I do" David Dobrik and his wife Lorraine Nash, are now getting divorced.

"We are getting a divorce, breaking news right here," the 22-year-old YouTuber confirmed earlier this month. In May, Dobrik took to Twitter to share the moment of his happiness that he spontaneously married to his best friend and YouTuber, Jason Nash's mom.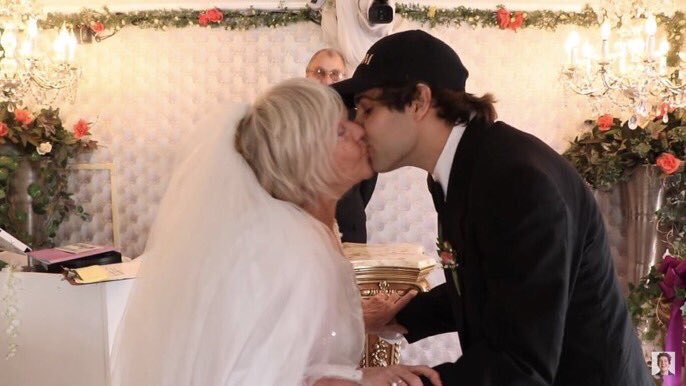 "My friend told me I would never find love and get married. So I flew to his mom's house and married her on the spot. Now that same friend is my stepson. True love always wins," he tweeted alongside photos of the proposal and wedding.

He also shared the newlywed couple pic that is- David Dobrik and Lorraine. The couple had a huge age difference, he is just in his early twenties while his wife Lorraine who had a son of his age and grandchildren.



After marrying he posted a picture on his Instagram account and captioned it as- "Last night I became my best friend's stepfather by marrying his mother. So grateful for this opportunity. I'll treat you as my own. Love you, Jason, now go take out the trash it's stinking up our living room." He was wearing a black suit and "Groom" hat and his pretty bride was wearing a white long gown. They got married in Las Vegas and went for a quick honeymoon in Hawaii.



And then soon after this, he revealed the news of his divorce. He again posted the picture on Instagram revealing the news and captioned it as:

I am heartbroken to announce that Lorraine and I have decided to end our romantic relationship. We wish this news would have come from us first, however, we know it's difficult for the media to resist speculation. We have tried so hard to make things work. Sometimes in life, you just aren't enough for someone; no matter what you do for them or what you try to be. Lorraine, you have been my light, my muse, and my confidante. You've taught me not only how to love another person but how to love myself. We will continue to love and support one another while being great friends and parents to our children. I thank everyone in advance for respecting our privacy at this time."


Author-Simran Bhatnagar
For more interesting stories download the Lopscoop application from Google Play Store and earn extra money by sharing it on social media.
Add you Response
㑼
David Dobrik Files For Divorce After Marrying His Best Friend's Mother Just A Month Ago